Pope Francis, a great Shepard. Will he be capable of governing?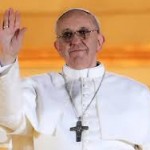 He won over the crowd from the very first moment he showed up from the balcony in the Blessings Lodge by simply saying «Buonasera». Then, he won over the sister Churches underlining no less than three times that he was (just) the «bishop of Rome» and never referring to himself as Pope. Finally, he won over the heart of the square by leading the crowd in prayer: first, with a Pater, Ave, and Gloria for the Pope Emeritus, and then by asking all to pray for him. Now, the crucial test for the Pope – whose secular name is Jorge Mario Bergoglio – is coming up: will he be capable of governing the Curia?
In Argentina, people who know him affirm that yes, he will be capable of doing so. Born in Buenos Aires on December 17, 1936, from Italian parents, Jorge Mario Bergoglio embraced a late vocation: he was ordained a Jesuit priest at 33, and just five years after he was appointed the Jesuits' Provincial (head) for Argentina.
Bergoglio's time as Provincial coincides with Peron's rule winding years, and the beginning of Videla's ferocious military dictatorship. A breach occurs within the Company of Jesus: some of the Jesuits embrace Liberation Theology and its Marxist overtones, advocating for armed struggle. Bergoglio, on the other hand, wants to focus on the Gospel, and asks everybody to make it the starting point of departure.
In 1979, Bergoglio's mandate as provincial comes to an end, with some reading it as a removal. After that, he becomes rector of a seminary and parish priest. He brings about an unrelenting pastoral activity, as usual. He is convinced that the Church must go and evangelize the working-class outskirts of the city. But he also knows how to be «realistic» and does not openly confront Videla's government. He engages the population. It is perhaps during these years that he develops his modus operandi.
It is in fact a very simple pastoral approach. Bergoglio is not a man of big words and grandiose speeches. As he laid out in his first homily as Pope – which he delivered off-the cuff – he aims to build up and evangelize. This is what he did as a parish priest, always pursuing a personal relationship with the people.
In 1992, he is appointed auxiliary bishop of Buenos Aires, to support bishop Guarracino. In 1997 he is appointed Guarracino's coadjutor (i.e. bishop with rights of succession) and in 1998 he is finally appointed Archbishop of Buenos Aires. He inherits a diocese in shambles, and he works to rebuild it piece by piece. He gives his cell phone number to all his parish priests and he tries to be as much available and reachable as possible.
In Argentina, many priests maintained love affairs, sometimes even having children with their lovers. Bergoglio goes and visits parishes. He does not want the visits to seem as inspections, so he calls in advance, announcing he is coming, to tone down any tensions. He regains many priests, who decide to end their love affairs and to staying the Church. He also loses others. At the same time, he reforms the seminary in Buenos Aires – only 40 per cent of the candidates are granted admission under his administration.
Meanwhile, Bergoglio encounters serious problems with Rome. Angelo Sodano, Secretary of State, created a nuncios' network difficult to deal with, and controlled all the bishops' appointments. Especially in South America, and particularly in Argentina. So, all the lists (of three candidates for bishops) that Bergoglio sends to the nuncio are turned down, and the nuncio prepares a different list with three other candidates – at Sodano's instruction – from which official appointments are drawn.
This situation – it is said–lowers the quality of Argentinian bishops and leads to scandals.
In 2000, Bergoglio places the Church in penance for the faults it committed during the military dictatorship, thus improving the image of the Church and its impact in public life.
So much so that, in 2002, in the midst of an economic crisis, Argentinian bishops can speak out against politicians, economists, and entrepreneurs who do not care about the poor. The Church is, ultimately, the only credible institution in Argentina.
Bergoglio's fame grew. It was well-known that he did not want to live in the Archbishops' residence. Instead, he lives in a flat not too far from the Cathedral, where he cooks for himself and for an elderly bishop. It is widely noted that the archbishop of Buenos Aires does not use a car, preferring to traveling town by bus or use the underground. Photographs of him in the underground are distributed to journalists.
Were these just popularity campaigns? Maybe. It seems, on the other hand, that he does not want to be a populist, and that the man who arranged the distribution of the archbishop's pictures in the bus is Guillermo Marcò, his press attaché, considered by many in Argentina a Vatican Secretariat of State spy. With tact, Bergoglio relieves Marcò from his duties and assigns him responsibilities over youth formation at the university pastoral.
In the meantime, a new administration is governing Argentina. Bergoglio understands that the new government will not change things that much, and so he goes on denunciating poverty and social injustice in his homilies. People listen to him. The local government counterattacks through three, four spokespersons. Bergoglio remains silent. When the administration's counterattacks come to an end, Bergoglio picks up from the point he left off four or five homilies earlier. He knows government officials are listening, and sometimes he plays this card to tell the government his honest opinions.
In 2005, John Paul II dies. Bergoglio is hardly known in Rome. But a block of progressive cardinals – convinced that it is time for them to rule the Church – choose Bergoglio as their «standard bearer», but find the way blocked by the esteem and respect that Ratzinger has gained. Votes for Bergoglio are enough to give rise to the possibility of a gridlock at the conclave. This does not happen because Bergoglio himself supports Ratzinger.
Bergoglio returns to Argentina. He carries on with his pastoral work in the suburbs.  He asks his «cardinal brothers» to go and evangelize on the suburbs, and remains an almost unknown in Rome, despite a leaked cardinals' diary of the 2005 conclave that for the first time reveals to the world that he could have become Pope.
In 2007, he comes to Rome for the synod on the Word of God, and he is called to chair one of the general meetings. At the end of the session, his fellow bishops applaud his work, appreciating his skills to facilitate dialogue and bring parties together.
In 2009, he launches the initiative El bautismo como obra misionaria, and christening days are organized in Argentina. Priests are called upon to baptize everybody who wishes to be baptized. He also takes part in many initiatives of direct pastoral work, for example, tents for confessions set in downtown Buenos Aires. Bergoglio himself is often there.
And we get to 2013: Benedict XVI resigns. Bergoglio is not considered a candidate even if some cardinals begin mentioning his name during the General Congregations of cardinals, the pre-conclave meetings.
Around his name, many of the «parties» converge: the Americans, who would want a U.S. Pope but do not want Card. Ouellet; Latin-Americans, who aim for a Pope from their land; cardinals from Eastern Europe, who think that South America is the new land of mission; and the Italian cardinals, except for the curiali. He gets about 90 votes in all, gained after an agreement of the "strong powers" among the berrette rosse who aimed at a pre-cooked conclave, with no disagreements.
Why Bergoglio? He is not an intellectual. He is a Pope of gestures, more than words. He is old, and thus more of a Roncalli (John XXIII) than someone fitting the profile that Benedict XVI had sketched for a possible successor. Will Bergoglio be an elderly reformer?
In the meantime, he has started to note, through various signals, that he knows what he is doing. For example, he did not want to wear the red cape when he came out for the first time as Pope; he put on and off by himself the stole for the blessing; and he opted not to have the homily in Latin for his first mass with the cardinals.
He chose Francis as his Papal name – as the saint of Assisi – and he «excels in humility», in accordance with the famous Saint Ignatius of Loyola motto. Anecdotes on how humble and good hearted he is are now mentioned everywhere.
Does not this lead to populism? Paloma Gomez Borrero, an experienced journalist, raised this concern with father Lombardi during a media briefing.
It is not a small problem. Some in the Curia already worry that the new Pope will not have any interest in governing the Church, and thus so much will depend on the new Secretary of State, who should presumably be someone who knows how to make the machine work. It is even possible that Papa Francesco may want to dismantle it and – with a zealous attitude – put at stake even the financing of operations.
Bergoglio wants a more credible and less worldly Church, and he will work toward that goal.  Will he be a good manager?