Pope Francis Really Becomes Pope on the Day a New Encyclical is Released.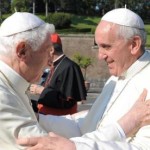 Pope John XXIII will be canonized. But the real news is that he will not be canonized as a result of  the Congregation for the Cause of Saints acknowledging a miracle attributed to his intercession. John XXIII will be saint because Pope Francis has decided so. He made his proposal and submitted it to a vote by the members of the Congregation. The Pope's proposal was adopted, and so, for the first time in centuries, a saint is being proclaimed without the need for a miracle and without even being a martyr. This gesture of Pope Francis swept every doubt away: Bergoglio plays the role of the bishop of Rome, but he is ultimately able to act with the full prerogative of a Pope. And, he does!
A Pope has not independently proposed a canonization for centuries. It did not happen even when John Paul II's "factory of saints" continually proclaimed saints and the blessed. The Pope is the only one that may proclaim a saint with scienza certa (certainty in knowledge). In fact, neither  Benedict XVI nor John Paul II deviated from the strict rules of canonization established by John Paul himself. The only exception was that shortly after he became pope, Benedict XVI decided to start his beloved predecessor's beatification procedure, waiving the 5 years from the date of death for John Paul's cause.
The announcement of the canonization of John XXIII and John Paul II was made on July 5. John Paul II will perhaps be proclaimed saint together with John XXIII on December 8.
While John Paul II never proclaimed a saint without following the rules, Pope Francis went for a double pirouette. According to a source in the Congregation, during the July 2 meeting members of the Congregation had,  they discussed a possible miracle attributed to the intercession of Pope John XXIII.
So, the question is: was this presumed miracle rejected by the Congregation as an actual miracle, and Pope Francis then acted de imperio? Or was the miracle's discussion overcome by events, with Francis' decision?
This cannot be known. But it proves that Pope Francis has his mind clear on what he wants.
It is now action time for Pope Francis. Within the Sacred Walls, dossiers are delivered every day for his action. With the Secretariat of State about to leave office, everybody feels a duty to denounce everyone, hoping to gain a better post for themselves.
Pope Francis is already surrounded by people he trusts.
Urban myth or not, in the Vatican there is talk of the Pope making unscheduled phone calls personally. The Pope has taken the reins and the direct control of operations.  So, the Secretariat of State is prodded aside. However, nobody is worried at State: they are the first hoping for a new structure for the Curia which would give them a selective coordinating role, and relieve them from the burden of being involved in each and every decision.
Ultimately, Pope Francis is signaling agreement with calls for a more straightforward rapport with the pontiff.
Currently, Pope Francis personally calls some of the heads of dicasteries daily, and he meets with them often. But he also listens to simple clerks and mid-level Vatican officials, perhaps asking them about the letter he sent three and a half years ago for which he never got an answer. The reform of the Curia needs also to start from here, paying attention to small things and keeping an eye on many different areas.
Pope Francis would also call Benedict XVI often. The two Popes are reportedly continually in touch, sometimes holding personal meetings. Benedict XVI is serene, work-free. He has thought a lot and come to understand what is that is not going well. He knows the hearts of people in the Vatican, and perhaps the Vatileaks affair has helped him to take a step back and be able to look with a certain level of detachment even at his closest collaborators. For the love of the Church, he serves as a friend on whom Francis can lean on for support.
Pope Francis is so keenly aware of this, that he wanted Pope Benedict by his side on July 5 for the  dedication of a statue of Saint Michael in the Vatican Gardens. Thus, Pope emeritus and Pope in charge were once again side by side, this time in a public event.
Another relay took the stage not even two hours later, the very same July 5: the encyclical Lumen Fidei was released.
Benedict XVI began to write it before his renunciation. He consulted with others. He incorporated some of his old homilies, taking on themes he had reflected upon all his life, not just during his pontificate. He put it all together in a draft. After his renunciation, he passed it all to his successor, Pope Francis. «If you please, carry it on.» Pope Francis, in fact, found a draft that was already beautiful and profound. He left it almost untouched, barely making some «adjustments». This is how the encyclical Lumen Fidei was born.
What's Benedict's and what's Pope Francis' in this Lumen Fidei? The latter, in the end, completely assumed the work of the former. Pope Francis thus completely and fraternally embraced Benedict XVI's viewpoint. The perspective that Joseph Ratzinger expressed in The New Pagans and the Church, one of his very first essays born from his experience as vice parish priest in a small town in Bavaria. The same perspective that Benedict XVI developed at the end of his pontificate, when he felt like professor Ratzinger again and imparted the Roman clergy an off-the-cuff lesson on what the Second Vatican Council really was, distinguishing it from the Council the media has portrayed. A masterful lecture underscoring that the real Council, anchored in the truth and the depositum fidei, would prevail.
Now that Pope Benedict has put together speeches like a master architect would erect cathedrals, lifting up the faith and at the same time providing it with a solid base, Pope Francis must make the light of faith shine also in the peripheries. This has always been Francis' intention, as he himself explained to the General Congregations, the pre-conclave official meetings of cardinals. A program that led him to his victory in the race for the papacy.
The encyclical must be read as a whole, without thinking which of the two Popes wrote this or that passage. More than an encyclical penned by two different authors, it is an encyclical that Pope Francis made his own. In it, there are warnings about the dangers of idolatry, Gnosticism, and Pharisaism. There is also a closing prayer for the Madonna, described as «the perfect icon of faith.»
There are also references to daily life which are typically Francis'. For example, where it reads: «We trust the architect who builds our home, the pharmacist who gives us medicine for healing, the lawyer who defends us in court.  We also need someone trustworthy and knowledgeable where God is concerned.» This someone is Christ, «he who shows us God» through «his way of knowing the father and to experience completely his relation with Him.»
From the two popes' fraternal union, an encyclical of less of 100 pages has emerged with a clear thread: even though there was a notion that «it is of no use nowadays, for a humanity come of age, proud of its rationality and anxious to explore the future in novel ways,» the «light of faith» is «capable of illuminating all of life,» since it is «capable of enhancing the richness of hu­man relations, their ability to endure, to be trust­worthy, to enrich our life together. Faith does not draw us away from the world or prove irrelevant to the concrete concerns of the men and women of our time. Without a love which is trustworthy, nothing could truly keep men and women unit­ed.»
Publishing the encyclical as it stood in its first draft, without further elaborating it, may seem unfair to Benedict XVI's thought. But perhaps this was in fact a case of a Pope simply paying homage to his predecessor. In this we see a Pope Francis that for the people is the bishop of Rome, but who  has started to act as a pope in the Vatican.
What happened on July 5 proves that Pope Francis has begun to make decisions.
In just one day, there was the announcement of the canonization of two popes and two sort of relays between the Pope emeritus and the Pope. Is this the sign that things are definitely going to change?
Calendario

dicembre: 2023
L
M
M
G
V
S
D
« nov
1
2
3
4
5
6
7
8
9
10
11
12
13
14
15
16
17
18
19
20
21
22
23
24
25
26
27
28
29
30
31