Liberation Theology and Rome, was it truly a war?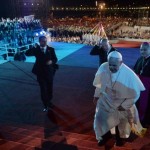 From Pope Francis' trip to Brazil for World Youth Day, we will remember his appeal to young people to «rock the boat»; his visit to a favela in Rio, an almost ritual visit for popes; and his unscheduled movements, which have put to the test his security.
Yet, there was a subtle debate behind the return to Latin America of the first Latin-American Pope.
Behind the totem of a Latin American pope, an intellectual discourse is brewing to give legitimacy and new life to Liberation Theology. Even Leonardo Boff, one of the «fathers» of Liberation Theology, has inserted Pope Francis in its ranks, simply because he sees in the Pope the possibility of a de-institutionalization of the Church.
In fact, Pope Francis is a conservative. More than de-institutionalize, he does not think much of symbols. History will judge whether this is good or not.
On the other hand, that the Latin-American pope can be utilized to promote «theological warfare» is a danger that should not be dismissed lightly. It is worth noting that, perhaps, there was never really a war between Rome and Liberation Theology. Perhaps, ideology overshadowed reality, instigating conflicts were there were none. Conflicts that hid the truth.
Can a friend of Liberation Theology be trusted? This was the insidious question raised right before Archbishop Gerhard Ludwig Müller was appointed the Congregation for the Doctrine of the Faith (CDF) prefect. Twice, unsolicited information about Müller was anonymously divulged via e-mail to some journalists who cover the Vatican.
The second round of "leaks" was about Müller's friendship with Gustavo Gutierrez, the "father" of Liberation Theology, and the honorary doctorate conferred on Archbishop Müller by the University of Peru, the very same institution from which the Secretariat of State recently took away the title of «pontifical» because of the university's lack of adherence to Catholic doctrine.
The question has been recently raised again, as Müller's book with Gustavo Gutierrez is about to be re-published in Italian. The book is entitled On the side of the Poor, Liberation Theology. In the book, Müller states that «the Latin American ecclesial and theological movement known as Liberation Theology, which spread to other parts of the world after the Second Vatican Council, should in my opinion be included among the most important currents in 20th century Catholic theology.»
The re-publishing of the book has resurfaced some questions. Gustavo Gutierrez was for a long time under investigation by the CDF because of his book "Liberation Theology", in which a particular theology is presented through a Marxist-type philosophy of history.
Gutierrez was never admonished, as the Congregation decided that it was sufficient for him to make some slight changes to the book, mostly rewriting its introduction.
Msgr. Müller is not concerned  with any of this. He considers Gustavo Gutierrez a good friend, and still hopes to guide him into theological circles inaccessible to Gutierrez in the years Liberation Theology was intensely debated and contested.
It seems that Müller has asked the Peruvian Bishops' Conference to identify two Peruvian theologians to join the ranks of the International Theological Commission. It is almost certain that Gustavo Gutierrez will be one of those chosen, since there are very few actual theologians hailing from Peru.
This way, Liberation Theology would have one of its representatives among the ranks of "official" theology.
It is in this reality framework that the publication in Italian of the book by Müller and Gutierrez is taking place. Gianni Valente, an Italian journalist who covers the Vatican, notes that the book «seems in a way to wave goodbye to the theological wars of the past and the hostility that flares up now and again, to cause alarm.» Valente adds that «the arrival of the Catholic Church's first Latin American Pope has made it possible to look at those years and events without being conditioned by the controversies they gave rise at the time.»
But can we really assume that the first Latin American Pope will shed light on that which is good in Liberation Theology, setting aside years of controversy?
In fact, things are slightly more complicated, as noted by author Pierluca Azzaro. The Italian editor of a book by Müller published by Libreria Editrice Vaticana, Ampliare gli orizzonti della ragione (Expanding the Horizon of Reason, Vatican Publishing House), Azzaro told the National Catholic Register on June 25 that «Müller knows well what he is talking about when he underlines that Liberation Theology is legitimate. He does not wish to put forward a sort of Marxism dressed up with some elementary notions of Christianity. He goes to the core of Liberation Theology." And that core is that "liberation from sins gives rise to humanity's concrete cooperation for the liberation that God operates in history.»
This is exactly how the CDF addressed Liberation Theology in two statements issued in 1984 and in 1986. So much so that an official of the Congregation, who asked for anonymity, told the Register on June 25 that "in a broad sense and metaphorically speaking, one can consider Cardinal Joseph Ratzinger's second instruction on Liberation Theology as the first of his social encyclicals." 
The same official explains that «when he was prefect of the Congregation, Ratzinger perfected the method of not admonishing or condemning without explanation. If there had to be a condemnation, the Congregation would deliver two instructions, one pars destruens and the other one pars construens,  as part of  a dialectic process. (…) This was the method followed, for example, when the Congregation for the Doctrine of the Faith issued its pronouncements on Liberation Theology: first, the Congregation condemned its Marxist orientations (instruction Libertatis Nuntius) and then, it acknowledged its preferential option for the poor (instruction Libertatis Conscientia).»
A reading of the two instructions proves that Rome was not against Liberation Theology tout court. For example, the instruction Libertatis Nuntius states, in its very beginning, that «liberation is first and foremost liberation from the radical slavery of sin. Its end and its goal is the freedom of the children of God, which is the gift of grace. As a logical consequence, it calls for freedom from many different kinds of slavery in the cultural, economic, social, and political spheres, all of which derive ultimately from sin, and so often prevent people from living in a manner befitting their dignity.»
Then, the instruction laments that «faced with the urgency of certain problems, some are tempted to emphasize, unilaterally, the liberation from servitude of an earthly and temporal kind. They do so in such a way that they seem to put liberation from sin in second place, and so fail to give it the primary importance it is due».
In essence, this discussion became an acrimonious debate in Latin America because of the harsh living conditions for the poor there. Liberation Theology came about in reaction to economic, social and political inequality in Latin American countries.
This is the reason why Lucas Cervino, an Argentinian who taught theology in Bolivia, wrote that «Liberation Theology is not dead, as many may think. It has branched out into other areas, and it is in dialogue with Rome.»
In fact, there was a dialogue from the very beginning.
Pierluca Azzaro explains, «it is a fact that there are lobbies and power élites who aim to normalize situations in which social imbalances exist. (However) The Church has always fought against injustice. Just think about Pope Pius XI, who in the encyclical Quadragesimo Anno clearly attacked the international imperialism of money.» 
In fact, this is a battle the Catholic Church has always engaged in, as stated in the Libertatis Nuntius (which includes a summary of papal encyclicals, documents and pronouncements on liberation and social justice). Liberation Theology came out of the very teachings of the Social Doctrine of the Church. It was just a matter of «re-balancing» some of its conclusions.
It is the «demundanization» that Pope Benedict called for, in his speech in Fribourg on September 15, 2011.
According to Müller, demundanization means «transform that which is not good, and then re-unite.» The two CDF instructions on Liberation Theology are part of this process.
A process that found its closure in Aparecida, at the fifth general conference of the bishops of Latin America and the Caribbean, in 2007. The final document of Aparecida is one of the most quoted by Latin American bishops.
Pope Francis was one of the protagonists of the Aparecida conference. He mentions it very often – he did twice during this World Youth Day, speaking with bishops and with the CELAM committee – , and chose to give a collection of the conference interventions, as a gift, to Argentina's president Cristina Kirchner.
Yet, Gustavo Gutierrez's new rise could also reignite debate over Liberation Theology.
Pope Francis is being used as a tool to reintroduce the debate. But the Pope is not a Liberation Theologian. He is more someone in tune with the grassroots communities that originated in Brazil during the sixties. At that time, there was no hint of Marxism. It was later that theologians like Boff and Gutierrez learned about Marxism in Germany and brought to Brazil. It was a sort of colonization of thought, that still influences the debate. 
(this piece was originally written for Catholic National Register and then updated after the World Youth Day)
Calendario

dicembre: 2023
L
M
M
G
V
S
D
« nov
1
2
3
4
5
6
7
8
9
10
11
12
13
14
15
16
17
18
19
20
21
22
23
24
25
26
27
28
29
30
31