Pope Francis and the Upcoming Meeting with the G8 of the Church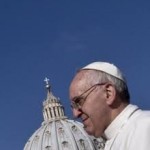 No doubt about it: every gesture by Pope Francis is a political signal. The time when his choices could be considered those of a naïve or inexperienced Pope is over. Every decision Pope Francis makes is signaling in which direction he wants to move the Church.
The eight cardinals charged with advising the Pope about an eventual Curia reform will meet in Rome, Oct. 1-3. Sketches of possible reforms are already on the Pope's desk. In fact, sketches of a possible reform were drafted long before Pope Francis' push for it. Talk about the need to streamline the Curia is not new, after all.
Benedict XVI was on it. He started by integrating the Pontifical Council for Interreligious Dialogue within the Pontifical Council for Culture (after some pressure, he reverted to the status quo ante and undid this integration). Conscious that a coordinating center was needed, Benedict XVI asked the Secretariat of State to assess the means for a more collegial management of the Church's internal affairs.
The "model" was that which Ratzinger perfected as head of the Congregation for the Doctrine of the Faith. It was not a mystery. Card. Bertone, Secretary of State, discussed that model in a meeting with the heads of Vatican dicasteries on Jan. 28, 2012.
That meeting took place just as the "Vatileaks" crisis was emerging. In the meeting, Bertone underlined the many things that should have been done over the years, but were not. These were actions that still had to be undertaken.
It was an ambitious project that would work only if everyone was on board. Not everyone was.  In the Secretariat of State, there were groups under the influence of Secretary of State Emeritus Sodano and the powerful Cardinal Dziwisz, former personal secretary of John Paul II.  Small groups of hardcore curia officials within the Secretariat had turned what should have been a climate of collegiality with other collaborators and advisors into one of mutual suspicion. Poor choices in the selection of collaborators and advisors was also to blame for the failure of the project.
As a result, there emerged a very blurred image of reality, particularly as perceived by some Cardinals outside Rome. Often, these cardinals only had "third hand" information. They could not see what was going on inside the Vatican.
Bergoglio was one of these archbishops in the "outer-perimeter" dioceses. In Argentina, he paid attention to cleaning up the image of his diocese. He wanted the faithful to feel he was close to them, even shocking them with his quips (in Argentina, they called them las bergolladas). He cared about projecting a clean image for the benefit of a missionary Church. When his priests mentioned to him that it would be good to have a synod, he replied that a synod would only serve to produce materials that would just end up on book shelves. On the other hand, he would choose the right tone where politics were involved. And he knew how to speak to the average man, using a mix of populism and common sense that borrowed expressions from newspapers and bar talk.
The cardinals, especially those from the peripheries, appreciated Bergoglio's austerity, missionary-age outlook, and blunt (to the point of being almost cynical) character. They saw in him an ideal candidate for a pontificate that would break from the past. There was also the need to regain popular and media support, and for a comprehensive reform.
Early signs of Pope Francis' style show that his way of governing may be many things, but it is not collegial.
The cardinals that will meet October 1-3 have been chosen personally by Pope Francis. They will refer only to him. And Pope Francis will have the last word on any decision. The pontifical commission for the Institute for Religious Works was created by the Pope without giving the Vatican Secretariat of State, which generally serves as a clearinghouse for these issues, a heads-up. The members of the commission have been personally chosen by the Pope, even if he took on advice and recommendations from friends and from people he trusted. The appointment of the pontifical commission to revise and oversee Vatican City State was formed likewise.
Lobbyists and pressure groups has thus started, once again, to actively seek to be counted among the Pope's advisors. Opus Dei and the Legionaries of Christ, religious groups which were prominently influential during the last part of John Paul II's pontificate, are back. Their weight is heavy in an atmosphere that has become rarefied in the Curia.
An institutional framework is missing. But it is not a given that Pope Francis wants to provide one.
More than considering how to reform the Pastor Bonus (the pastoral constitution that regulates functions and offices of the Roman Curia), Pope Francis is simply acting as if Pastor Bonus did not exist. He is not changing it. He is not taking it into account.
For example, the Secretary of State must be a cardinal. It is written, it is a law of the Church. Whenever the chosen clergyman is not a cardinal, he can be appointed Pro-Secretary of State, waiting to be created cardinal. Pietro Parolin will take his post on October 15, after the meeting with the cardinals, as had been decided long time ago (Bertone had asked the announcement to be made as soon as possible, after no one spoke up to defend him when Francesca Immacolata Chaouqui said he was a corrupt man). However, Parolin has been appointed Secretary of State, not Pro-Secretary of State. And he is still an archbishop.
The Secretary General of Vatican City State must be an archbishop. If a priest is chosen for the post, he must be "elevated" to that rank. The new secretary, Fernando Vergez, is simply a monsignor. And there is no hint on any upcoming episcopal ordination for him. One could say: it is normal, since Pope Francis also abolished de facto the title of monsignor, conceding it only in most special circumstances.
These are choices that lend credence to the notion that action lies outside the institution and takes place without observing or reforming the rules. So, what will be of the Vatican employees who have fought for more transparency, honesty and collegiality within the institutional framework, working to reform and improve the rules?
A first signal is out. Msgr. Massimo Boarotto has been serving until now as chief of the Extraordinary Section of the Administration of the Patrimony of the Apostolic See (APSA), a sort of Vatican "central bank". The management of the funds for Vatican employees, special investments and some accounts passed through his desk. He did a good job, so good that he made some enemies. He was one of the first ones to notice the wrongdoings of Nunzio Scarano, the APSA employee now under arrest under suspicion of money laundering. Boarotto managed to isolate Scarano in the office, but he was not able to remove him.
Now, Msgr. Boarotto has decided to step aside. He will be a parish priest once again. He did not ask for a promotion, which he would deserve after so many years as a senior Vatican official. This outcome could be a strong signal of things to come under a Pope Francis overhaul.
Last week, in the sixth month of his pontificate, Pope Francis met with the chiefs of Vatican dicasteries. It was essentially a routine meeting, yet full of political signals. Generally, the Secretariat of State convoked these meetings, and the Secretary of State would be making a speech. Bertone, however, was not even mentioned in the Holy See Press Office Bulletin, and the meeting was convoked by the Prefecture of the Pontifical Household.
This way of proceeding could also indicate that Francis intends the Secretariat of State to be relieved, from now on, from the management of general affairs. Perhaps, the Secretariat of State will only deal with diplomacy, since the designated Secretary is a career diplomat.
One more sign: Cardinal Vicar Agostino Vallini, the Pope's vicar general for the diocese of Rome, took part in the meeting, despite not being the chief of a Vatican dicastery. His presence could also mean that Pope Francis wants to strengthen the links between his government activity and the diocese of Rome.
All this "reform" is coming about in intervals, with Francis in the central decision-making role and everyone else following. It would show that listening to people does not mean collegial decision-making.
At a first glance, Francis' program seems to be about the dismantling of the current system. To reach this goal, he has sought the help of friends and people who think like him. Almost all of these confidants are from Latin America or have some knowledge of Spanish or Latin America. The future will tell how successful these efforts will be.