Pope Francis and the Vatican "revolving doors"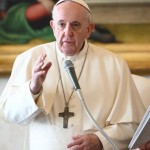 It now seems inevitable that 2021 will be a year of significant changes for Pope Francis. The Curia's reform should be finalized, Vatican finances will once again be under scrutiny by the Council of Europe's MONEYVAL committee, and Pope Francis will be called to conduct a robust reshuffle of Vatican dicastery heads, as several of them are over 75 years old and therefore have reached retirement age. Yet, beyond all these changes, there is also a certainty. That Pope Francis would be making changes anyway, aside from any set dates, because this is his strategy.
Pope Francis does not like to be constrained and vigorously defends his independence. He communicates little about his personal decisions, maintains his discretion in decisions, and hardly shares his whole schedule of the day with his secretaries. His days are marked by official appointments and a series of private meetings and phone calls that he manages, and that no one else knows anything about.
This independence is also defended through the revolving door mechanism. Pope Francis does not want anyone around him to have the power to become a sort of his "gatekeeper". For other popes this had happened with Cardinal Stanislaw Dziwisz, secretary of John Paul II, and in some way with Archbishop Georg Gaenswein, secretary of Benedict XVI. In general, all papal secretaries were the person to go to, in order to have an appointment with the Pope or get him a note.
With Pope Francis, this is no longer the case. The Pope changed his entire staff of secretaries last year, first sending away Monsignor Fabian Pedacchio, who had been by his side since the beginning of his pontificate, and then Monsignor Ioannis Lahzi Gaid, who had been appointed his second secretary in 2014.
It is hard to know who is in the circle of friends of the Pope or of the most listened-to advisers. Often, it happens that even the most listened-to people suddenly fall out of favor. Bishop Bruno Forte of Chieti was secretary-general of the two synods on the family, and was considered one of Pope Francis' reference theologians. He fell out of favor after he imprudently revealed at a conference how the Pope had asked him to handle the issue of holy communion for divorced and remarried.
Following the patterns of decisions, it can be seen that Pope Francis gives and takes away trust in a rapid, almost sudden, way. Indeed, the Pope vigorously defends the people he trusts or whom he deems useful. After the letter-gate scandal (the letter from Benedict XVI falsified at the presentation of a book by the Vatican Publishing House), Monsignor Dario Edoardo Viganò resigned as prefect of the Vatican Dicastery for Communication. The Pope first rejected his resignation and then kept him in the dicastery as assessor, an ad hoc position.
Archbishop Gustavo Zanchetta was also called from Argentina for an ad hoc position, that of Assessor for the Administration of the Patrimony of the Apostolic See (APSA). Not even the fact that Archbishop Zanchetta had to go to Argentina to defend himself from a trial for sex abuse gave rise to the possibility of replacing him.
Then there is the Chilean case. Pope Francis first appoints Barros Madrid as archbishop of Osorno, ignoring the protests that arise because Barros was also a disciple of Father Fernando Karadima. The situation continued until Pope Francis' trip to Chile when popular protests convinced him to ask for a supplementary investigation, entrusted to Archbishop Charles J. Scicluna. From there, two dramatic meetings took place between the Chilean bishops and Pope Francis in Rome. These discussions led to the resignation of the bishops of Chile en bloc.
But Pope Francis suddenly withdrew his trust in Cardinal Angelo Becciu, who in 20 minutes of an audience found his standing changed from being prefect of the Congregation for the Causes of Saints to no longer holding any position and even being stripped of the dignity of cardinal.
There are also the Casa Santa Marta's revolving doors, where the Pope lives, and the revolving doors of the Vatican, which the Pope governs. We shall see how these revolving doors operate when there are new department heads.
Meanwhile, there is even talk of yet another reversal in the Department of Communication. The Pope may not be happy with how the dicastery manages his image and may change the prefect. The chosen new head would already be there: Fr. Marco Pozza, chaplain of the maximum-security prison in Padua, whom the Pope has come to appreciate in a series of interviews. A great communicator, he would be called to revive the fortunes of Vatican communication.
But what communication? Institutional communication, and communication that aims to elevate above all the Pope's message?
Pope Francis began the year by granting two interviews and an engagement to widely circulated magazines and newspapers (including an Italian sports newspaper). Simultaneously, a number of books have already been published carrying a preface by Pope Francis himself.
In these choices, one feels the Pope's need to be present, reassuring, and to direct the debate. But the main question remains: what does the Pope think? And what does the Pope want?
In the end, Pope Francis always finds himself following the advice of the usual praetorians. He seeks the views of several people and then chooses one definitively. He seems almost instinctive in his choices, sometimes contradictory.
He is a Pope who wants to remain independent, without a shadow of a doubt. But is it not the case that this independence run the risk of isolating him? After all, the Vatican is a small State, but it has a global dimension. If the Pope isolates himself and looks only at nearby realities, without a vision for the future, he is not an asset for anyone.