Pope Francis, what is your approach to theological questions?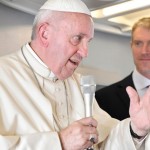 There was no need for a press conference on the plane to confirm Pope Francis's pragmatic approach to theological issues. But the press conference on the return flight from the trip to Hungary and Slovakia further clarified some aspects of the Pope's approach to theological matters.
One question, in particular, focused on the theme of Communion given to Catholic politicians who support abortion in various ways. It is a divisive issue in the United States. As early as 2004, the Congregation for the Doctrine of the Faith had produced a document explaining how Catholic politicians who advocated abortion were in a state of public sin. In short, Communion cannot be given to those who are not in the grace of God.
The issue was influential in the United States, especially since the Catholic John Kerry's candidacy for president. The problem arose from the fact that Catholic membership was not to be exploited. If Kerry had received Communion, he could have created the Church's narrative to come to accept abortion. Hence the need for a doctrinal note.
The problem came back with presidential candidate Joe Biden. The bishops of the United States have worked towards a path of "Eucharistic Renewal," a much broader theme than the question of Communion for pro-abortion politicians. For the US bishops, it was a question of going back to the roots and explaining what Communion was and the state of grace necessary to access it. Of course, the subject of Communion delivered to pro-abortion politicians was touched upon. But it was part of a more significant, more pastoral issue. This pastoral care that, however, had to be nourished with a sound doctrine.
The bishops had warned Pope Francis of the document they were going to publish, and Pope Francis had instead asked to look for a document that would find the total unity of the bishops. Because, among the bishops, some were not convinced of the need to deny Communion to pro-abortion politicians. It was a minority, truth be told, but enough to lead the Pope to ask for a different methodology, another approach.
The matter was the subject of one of the questions in the press conference on the plane. And the answer says a lot about the Pope's modus operandi.
Pope Francis did not deny the gravity of abortion. He said, as he had already pointed out several times, that abortion means "hiring a hitman." He reaffirmed the "scientific" truth that there is human life already at conception. He stressed that those who come to kill are outside the community, and for this reason, excommunicated. In short, he cannot take Communion.
But he did not want to go into the merits of the matter. He went so far as to say that saying yes or no is casuistry. And he said that this casuistry is theology, while pastoral care is life and theology together. He didn't say to give or not Communion. He said that everyone should be accompanied with compassion and tenderness. He recalled that Communion is a gift, not an award to perfect people, but he did not want to clarify his position on the subject. He never will.
Because for Pope Francis, everything must be resolved in a pastoral way. But what does this mean? What consequences can it have?
On Our Sunday Visitor, Christopher Altieri noted how, already in the book with Rabbi Abraham Skorka, Pope Francis had pointed out that he never distributed Communion but rather let others do it. It is a detail that was noticed immediately, even from the moment he became Pope because Francis never gave Communion to the faithful.
And the reason why he did not do it was precisely because his gesture was not used politically, perhaps sending forward someone who could not approach Communion due to some public positions and to which it was known would not be refused.
Pope Francis is a pretty clever way to avoid taking a stand. If he does it as a bishop, it is a personal decision. But, by acting as Pope, he forces the bishops to do the same.
What would happen if a bishop found himself in an uncomfortable position of having to give Communion to a person who is notoriously excommunicated? If it is a question of acting with compassion and tenderness, as the Pope says, then the bishop should give Communion, with all that goes with it. But, on the other hand, if it is a question of following the Pope's example, the bishop should avoid entering into a political issue. If he instead decides not to give it, he will be accused of not having compassion and tenderness.
This is what the doctrine is for. To avoid gray situations in which good ends up giving dignity to evil. An upstream decision is made, based on doctrine, and then applied on a pastoral level, considering all the possible consequences. Doctrine feeds pastoral care and gives pastoral care a form with various exceptions to the doctrine. Overly pragmatic pastoral care risks becoming just an exercise in style.
The fundamental problem is that the approaches are already too polarized, and Pope Francis is certainly not a person of the center. He takes a point of view and carries it forward, counting on the fact that he's in charge. On the one hand, some take doctrinal positions to the extreme and make them a point of principle. On the other hand, those who make a point of principle of the relativity of doctrinal positions.
A synthesis would be necessary, but this is not only not offered by Pope Francis. It does not seem to be on the horizon. Pastoral care and doctrine are mixed with pragmatism, and in the end, it is difficult to understand what is the right or wrong thing to do.
In the end, a sense of the Church is missing, a common point of view. While the Pope always remains at the center, loved or hated, but certainly the only decision-maker. With his choices, words, and ambiguities mixed with certainties and doctrinal orthodoxy, Pope Francis is not just a divisive Pope. He is a Pope at the center of attention. While the Church, to tell the truth, seems to be disappearing.
Calendario

dicembre: 2023
L
M
M
G
V
S
D
« nov
1
2
3
4
5
6
7
8
9
10
11
12
13
14
15
16
17
18
19
20
21
22
23
24
25
26
27
28
29
30
31