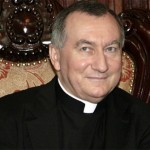 Pietro Parolin was discharged from the hospital and should arrive in Rome after a short convalescing period at home. This is the first piece of news released about the new Secretary of State's health. Parolin could not take part in the ceremony by which he formally assumed his new position because he needed to undergo an urgent surgery operation. If what the Holy See Press Office stated officially is accurate, Parolin was discharged on Friday, Oct. 25, about ten days after his surgery. A long recovery, it seems, for a simple surgery. Some rumors point to a shorter period convalescing at the hospital, and hypothesize that Parolin has been in Rome since Oct. 24.
There has been some cross communications in the way that news about the illness of the new Secretary of State has been managed by the Vatican. Purportedly to respect the right to privacy, there has not been any medical updates about the health conditions of the Vatican's No. 2. It was reported that a surgery had taken place that would be followed by a convalescing period, without describing the surgery or informing about the length of time for recuperation. If the goal of this approach was to avoid scaremongering and managing expectations, it failed. Unfortunately, Parolin will arrive in Rome with an aura of mystery about his illness.
Pietro Parolin will not face an easy task.
A pupil of Cardinal Agostino Casaroli and raised in Angelo Sodano's Secretariat of State, Pietro Parolin has proven to be a skilled and talented diplomat. Thanks to his work, the Holy See was able to "unfreeze" the unofficial rapport with China (the Holy See and the People's Republic of China have not established official diplomatic relations). The rapport with China fluctuated when Parolin was sent as papal nuncio to Venezuela and stopped looking after this issue.
In addition to his diplomatic skills, Parolin will have to govern a changing institution, i.e. the Secretariat of State. Almost nothing is known about the way the Secretariat of State will work under Pope Francis. The Pope, it seems, wants to delegate the management of general affairs to the Vatican City State administration. This would be the reason for the Pope's enhancing the authority of the Vatican City State administration head, Cardinal Bertello, and entrusting Bertello's deputy with the pastoral care of all the inhabitants of the small city-state on the Vatican hill.
So, Parolin should be only the chief of diplomacy, as was –in effect– Angelo Sodano as well. Now Dean of the College of Cardinals, Sodano is still very powerful inside the Vatican. At 86, he continues to meet nuncios and friends who are bishops (he promoted and appointed many of them in 13 years as Secretary of State) and he is still very influential, since many feel indebted to him. In fact, there are many people – Angelo Sodano included – who have never accepted that their world was turned upside-down by Benedict XVI.
Benedict XVI's reform, as is Pope Francis', was first of all a reform of attitudes more than of structure. Benedict did not touch the Vatican diplomatic corps. He worked to change the attitude and the work ethics of Vatican diplomacy and Vatican mentality in general. Benedict XVI did not just move aside the monsignors who narrowly focused on the bilateral relation (particularly with respect to financial issues) with Italy. What Benedict did was to give the Vatican a more international outlook and focus.
Unsurprisingly, this new outlook led many to lose privileges and influence. Looking back, some of Benedict's appointees still came from those with the old, narrow mentality. For example, Ettore Gotti Tedeschi, who became President of the Council of Superintendency of the Institute for Religious Works (the so-called Vatican bank). Gotti Tedeschi was more committed to Italian interests than to the Vatican's.
In any case, step by step, a change of mentality worked its way through and was increasingly more evident and concrete. Benedict XVI's Secretariat of State was to become a sort of central coordinating point for the Church, and this is exactly why the Pope wanted Canon Law expert Tarcisio Bertone as Secretary of State. Following Benedict's suggestions and requests, Bertone initiated a twofold reform: more collegiality and coordination among departments; and a new diplomatic doctrine which placed less emphasis on reaching particular understandings (like on the issue of humanitarian intervention) and instead aimed at shedding light on the Church's commitment to the common good.
Resistance to these reforms was predictable. Collegiality required everyone's collaborating towards the common good. Even if just one person goes against it, the risk of failing is very high.
When Benedict XVI held the famous lectio magistralis in Regensburg, nobody from the Secretariat of State warned him about the diplomatic tension his words were likely to cause with the Muslim world.  The Secretariat of State said they never had a chance of reading the Regensburg speech before it was delivered, but this is not a justification, since it anyway failed the way the case was handled, also in the relationship with media. It was the last trip managed by Angelo Sodano. The scandal and the rage of so many Muslims served as a warning alarm about some of the internal dynamics at the Vatican. 
The same journalist whose inaccurate reporting and commenting of Benedict XVI's words sparked the Regensburg controversy is now attempting to rehabilitate the image of Ettore Gotti Tedeschi, a man no longer a part of anything relating to the Vatican but who nevertheless continues to exert influence over Italian newspapers, thus grabbing international press headlines as well.
Benedict XVI's times were not a good time for «the men of compromise.»  In reaction, their rapaciousness within the Church was pervasive. Benedict XVI and Bertone had to confront and overcome many problems: bad information on the Polish bishop Wielgus appointed as archbishop of Warsaw and the appointment of Gehrard Maria Wagner as auxiliary bishop of Linz in Austria (the first one resigned, the second one renounced to take his new post); a deeply flawed communications strategy on pedophilia which could not shield, for instance, Bertone or Benedict XVI from gay activists' uproar over Bertone's comments about sex abuse and homosexuality and over Benedict XVI words about the use of condom to prevent HIV in his way to Africa; and Vatileaks, a widespread practice of leaking documents throughout Benedict XVI's pontificate.
When the Vatileaks investigation led to the arrest of one of the most prominent characters behind the leaks, the butler Paolo Gabriele, it also became evident that there were many other leaks, including from traditionalists once considered enthusiastic about Benedict XVI but who could not stand some of the Pope's decisions, like appointing Gerhard Ludwig Mueller as Prefect of the Congregation for the Doctrine of the Faith.
Nowadays, the situation is different. Nobody can speak about Pope Francis in bad terms. Critical opinions of Francis or his choices have no impact or echo in the media. Critical views of questionable decisions are dismissed as «rumors and gossiping.»  The rumors and gossiping that Francis has said – even to the Vatican  Gendarme Corps – that should be done away with.
In the meantime, Pope Francis is setting off his overhaul. For the time, just a "government reshuffling" fueling conjecture of a return of the diplomats to positions of responsibility and also to speculation about a so-called gay lobby that is said to be gaining terrain and power around Pope Francis. Is it true? If it is, was Pope Francis properly informed? If he was, why did he make these choices?
Some venture that Pope Francis choices are thorough and intentional. As Cardinal Bergoglio, he never had a great rapport with the diplomats, a time when Angelo Sodano headed the Secretariat of State. And he cannot bear any kind of lobby, as he has said repeatedly, including on his way back from Rio de Janeiro. Ultimately, placing his enemies around him may not be merely a way of applying the Gospel commandment of "love your enemy." It is the personal commandment of a Pope who lived under a dictatorship and felt exiled: the commandment of "control your enemies."
Now, it remains to be seen how much the enemies may be able to control the Pope.
Pietro Parolin arrives in Rome and is put in the midst of this controversial situation. He started his service in the most unlucky way, and he will have to watch out for the rapaciousness that constantly "bit and devoured" into Benedict XVI's pontificate, and was often directed against Cardinal Bertone. Will Parolin be able to fend off particular attitudes and behaviors, of the kind that his predecessor had to endure and became a victim of?
It is an important question. After influencing the Conclave, the old guard hopes to influence the Pope and his Secretary of State. If it succeeds, it could represent a retrocession of 40 years or more  for the Vatican. Ultimately, a shepherd Pope does not bother anybody. But a Pope able to deliver the Church to the world, and not just through pastoral reasoning, risks upsetting all the balances. In the encyclical Populorum Progressio Paul VI lamented that «it must be admitted that men very often find themselves in a sad state because they do not give enough thought and consideration to these things,» regarding development.  It is a lament that today is also applicable to thought and consideration about the future of the Vatican and the Church.